How is Meals On Wheels funded?
Murrysville Meals-On-Wheels is a 501(c)(3) non-profit organization. All of the funds needed to run the program is derived entirely from client contributions, and donations from individuals, organizations and businesses. Murrysville Meals-On-Wheels receives no government grants or tax based funds.
As an all volunteer organization with NO paid officers or staff we are able to utilize all of the donations we get to provide meals for the clients.
What are ways to contribute?
Contributions may be given directly to;
Murrysville Meals On Wheels
3202 North Hills Road
Murrysville, PA 15668
You may make a donor declaration through the United Way (Agency code #616).
You can donate online through Network for Good
Elect to sponsor meals for a recipient ($12 a week).
Donate your time.
Donate food, baked good, or special treats.
You might also consider a memorial.
We are always looking for unique and easy ways to raise a little extra money for clients that can't make a donation.
Shop online at Amazon
Designate Murrysville Meals-on-Wheels as your charity of choice and do your on-line shopping at Smile.Amazon.com:
Help support Meals On Wheels

Simply start your on-line shopping at http://smile.amazon.com, designate Murrysville Meals on Wheels as your charity and shop normally, Amazon will donate a percentage of your purchases.

What could be easier?
Dine at Panera Bread - Wed. March 20th, 4 to 8 pm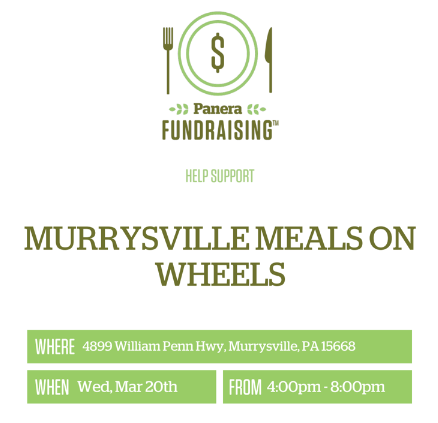 We are excited to team up with Panera Bread to raise money for Murrysville Meals on Wheels. Please consider enjoying a meal at Murrysville Panera on 3/20/2019 to aid us in this fund raiser.
Click this LINK; print the invitation and present it on 3/20/2019 at Paneras in Murrysville.
Copyright © 2001-, Murrysville Meals-On-Wheels, ALL RIGHTS RESERVED.